1). The year goes by fast! Start organizing, planning, and most of all-being productive! Get your FREE PDF Productivity Planner for all 365 days of the year and start seeing your goals and dreams come to fruition courtesy of RatRace Resolutions!
2). HOSTING
Remember, you should always self-host and own your own blog. This means your own servers and URL. Relying on someone else is not the way to go. Plus, since they have control over your website, they can take down your blog at any time.
Why use Siteground? Well for one it's used by tons of bloggers to there's always someone to help you or answer questions about Siteground if you need it. There support is fast and awesome (I've used them a number of times to help me and they always come through in a jiffy!). Their 1-click WordPress installation is a snap and will be easy peasy for beginners. Plus, their 30-day money back guarantee is a no-brainer!
Use the Siteground affiliate link and get a free copy of Affiliate Marketing for Bloggers! Just send your receipt and once your purchase is verified you'll be sent your copy.
Same with Bluehost. Free domain, free site builders, 1-click WordPress install, and 24/7 support. It's all a matter of preference.
3.) SOCIAL MEDIA
This one is a MUST if you want to maximize your Pinterest account and start getting crazy traffic to your website! You can also use it for Instagram. Get a free month when you use the link below.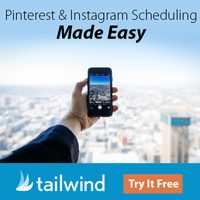 4). EMAIL SERVICE
You must have some sort of Email service provider if you want to run a profitable blog. The core of any good website is the email list. Your subscribers are your tribe! Visitors and great but the ones you convert that sign up for your information are the ones you want. You need an email service provider not only for your reach, but to create opt-ins as well. I recommend Mailerlite for those just starting out. It's free until you get your first 2000 subscribers! It's also super user- friendly and easy to navigate. However, if you have the money, my top recommendation is to go ahead and get Convert Kit for your email subscriber for the start. It's kind of a pain to transfer all your subscribers over to a new email service. I've used both and they are both great. I use Convert Kit for an older website I have and Mailerlite for this one. So I'm speaking from experience.
5). OPT-INS AND SHARE YOUR CONTENT HELPERS
Milotree
I absolutely LOVE Milotree. It's a program that lets people opt-in or subscribe to your website or social media accounts. The reason why I love it so much is because it's SUPER easy to set this up. No downloads, plugins, or posting codes needed. You just handle everything from the Milotree website. Just choose which thing you want visitors to sign up for: your website or one of your social media accounts. You can also choose how the opt-in box scrolls across your website screen. If you want to know what it looks like just take a look at mine. You should see the Milotree scroll across my screen when you first come on my site.
Have you heard of Opt-in Monster? It's a great tool for turning visitors into subscribers. It can help you grow your email list but also does so much more than that! The features are endless and it integrates with most email marketing platforms.
6). PAYMENT
Sendowl has been the easiest so far for me to use when it comes to setting up a payment system for products I sell. This is a great system if you want to sell ebooks, or other digital products as well. Getting paid is a breeze, and they are very reasonably priced as well. They even have an affiliate program system already built into their plans that you can use if you want to offer an affiliate program for the products or ebooks you sell.
7). COURSE CREATION
Teachable is a program that allows you to create and sell online courses. It's user-friendly and really easy to get started.
8). LEGAL
Use this Legal Bundle to get all the legal templates and documents you will need for your website.
Need legal help with forms, disclosures, and other legal matters regarding your business? These folks have everything you need when it comes to legal resources for your business.